Housing and Neighborhoods
Finding a new home or apartment in York County is easy because of the numerous housing options available. No matter what size your household, a wide range of housing options, locations, and listing prices are available for your consideration. A sampling below shows the wide range of the options available in York County.
In 2016, YCDC facilitated a County-wide Housing Study.
The staff at York County Development Corporation would be happy to provide you with more information regarding the housing options available.
---
Housing Options
YCDC has several realtors on our membership prepared to assist you in locating your family to York County.
---
YCDC worked with Praire Fire Development on creating a 24-Duplex rental property. Vistas at Meadow Grove is now pre-leasing for Summer 2019 move-ins for these 48 units. The community of three-bedroom townhomes come fully equipped with spacious kitchens, in-home washers and dryers, and attached garage parking. You're sure to love the friendly, smoke-free community, which boasts a resident center and on-site maintenance. Income and student restriction apply. Text/email Selden, the management company for today for more information and to be added to our waitlist.(402) 908-8223
---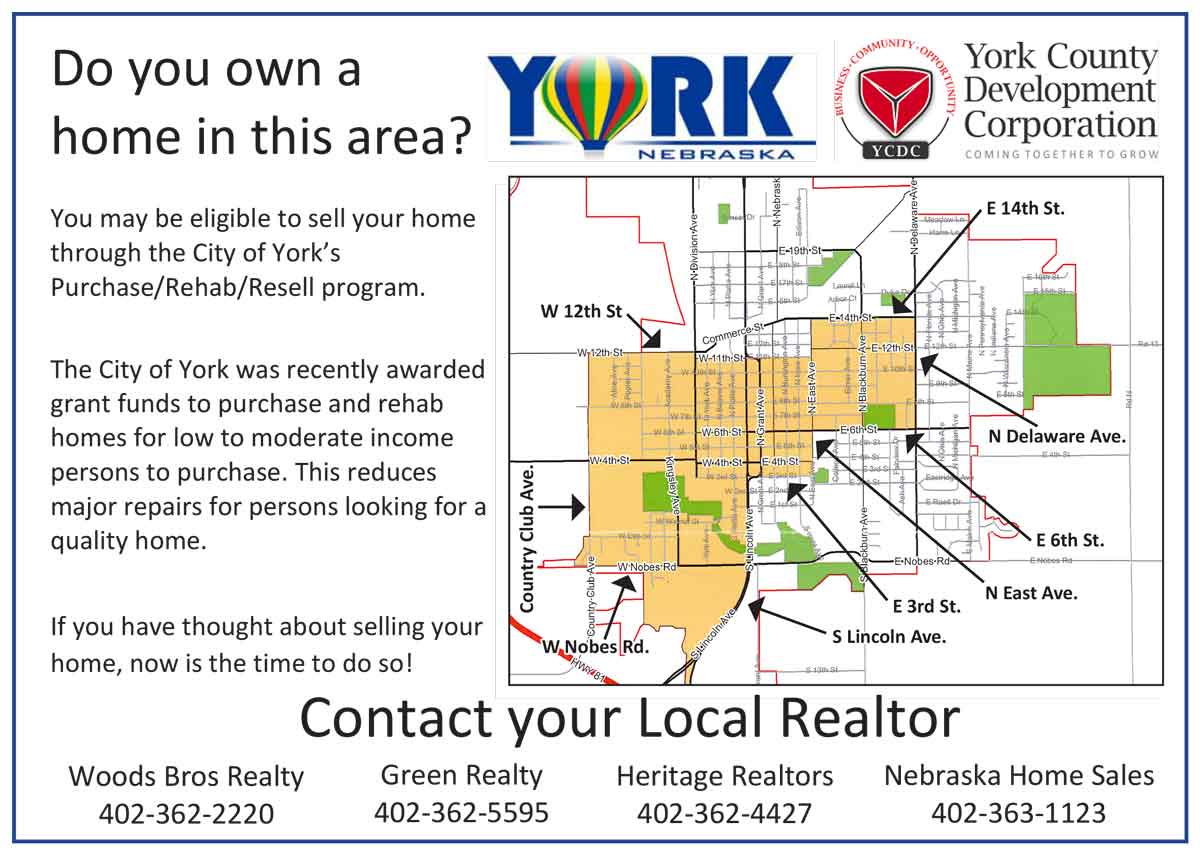 Housing Characteristics
From 2005-2009, York County had a total of 6,258 housing units, 7 percent of which were vacant. Of the total housing units, 78 percent were single-unit structures with the balance being multi-unit structures or mobile homes. Fifty-two percent of the homes in York County, Nebraska have been built since 1960.
Of the total housing units in York County, 73 percent are owner-occupied, with a median home value of $93,500. The median monthly housing costs for mortgaged owners is $946 and $539 for renters. Eighty-six percent of homeowners with a mortgage, 87 percent of homeowners without a mortgage and 68 percent of renters spend no less than 30 percent of their household income on housing.
Housing Characteristic
Total Housing Units • 6,258
Total Vacancy Rate• 7%
Units less than 50 years old • 52%
Owner-Occupied Units • 73%
Renter-Occupied Units • 27%
Median Home Value • $93,500
Average Household Size • 2.1
Monthly Housing Costs for Mortgaged Owners • $946
Monthly Housing Costs for Non-Mortgaged Owners • $392
Monthly Housing Costs for Renters • $539
All unit types spending less than 30% for housing costs • 80%
---
Housing Subdivisions
York County has many subdivisions coming onto the market. If you are looking for a new constuction choice, you will have a wide variety neighborhoods.
Paradise Park Estates
Located in York, has a total of approximately 122 lots eventually to be developed on 75 acres. This will be an upscale neighborhood with ponds, walking paths, and green space. You can choose between walkout, daylight or level lots. There are some restrictive covenants for this development and eventually will have a homeowners association. You can contact any York realtor for information.
Strong Subdivision
Located in York, these scenic lots are nestled in to an established neighborhood with mature trees and sloping hills. Choose your lot 3, 4 or 5. Then, design your home for a walk-out, daylight basement or a level home. There are no covenants, however, the seller does have some building requirements.