Landing Back Home - Jane Brogan's Perspective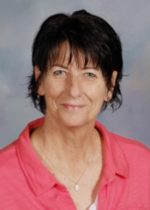 10 Jul 2019
blog, Articles, Talent
This is the second article in a series that I am working on during my summer internship at the York County Development Corporation. This series strives to highlight the stories of people who were raised in York County and came back as adults to develop their careers and raise their families. A place can only be as fantastic at its people, which is why the personal histories and current successes of these individuals shows us the true heart of York County.
Landing Back Home
Jane Brogan's Perspective
By Sam Redfern, YCDC Intern
Jane Brogan is always headed somewhere. Growing up in York, Nebraska she recalls often heading across the alley to school, which was located just a few short steps away. If you talk to Jane today, it's no surprise that she spent a lot of time at school. Whether it was on the playground or in the classroom, she credits the upbringing York (and its educators) provided. Now a teacher in those same high school halls, Jane sees things a bit differently than she did at age 17. Pulling from her interesting background and fascinating travel experiences, Jane Brogan shares a perspective of appreciation for her home town, which she is happy to still call home today.
After graduating from York High School, Jane headed to college at Colorado State University in Fort Collins, Colorado. There she studied business and began to see her hometown a little differently. In fact, Jane has realized over the years that anytime there is distance between her and York, she begins to appreciate it more. After graduating with a degree in business at CSU, Jane started to think about attending law school. This was the start of a few interesting years of long hours and a crazy schedule. Before heading into court rooms, she took to the skies as a flight attendant. This allowed her to widen her horizons and see more or the world, from a bird's eye view. She met people from all walks of life and saw areas of the country that probably would have never made her summer vacation wish list. Additional travel and site seeing has happened later in her life as well. Bike tours in Nebraska and throughout the country have allowed Jane to see the heart of many small towns. Impacted by a recent trip this summer that took her through Kentucky, she was shocked at the amount of poverty and lack of economic activity in many of the towns they rode through. Blocks of downtown areas were shut down and many fields were sitting idle during prime growing season. On the long (very long!) bike rides, she began to compare York County to other areas of the country.
Through the flights and the rides one thing has been clarified for Jane, she believes that she won the jackpot by being born in America, having Nebraskan roots, and living in York. She said, "Once I was able to travel, it has just made me appreciate what I have and where I am from". She pointed out that York's downtown is full of valuable businesses and dedicated agriculturalist ensure that the fields in this county are not underutilized. This economic activity, including the great location provided by the interstate and highways, helps produce good jobs, new housing, and expanding opportunity. In a recent graduate sociology course, Jane had to explain how she would introduce someone to her hometown. She highlighted the impressive parks and appealing retail options that any visitor should see. But more importantly, when she was asked what areas of town a visitor should avoid, she didn't have an answer. She argues that she feels safe walking anywhere in York alone, even at night. Some of the small towns in Nebraska that she has biked through did not give her that same feeling of safety.
Jane is confident that when compared to many other communities in the country, and even the state, York is economically in a solid position. When asked why York is home, Jane Brogan argues that "this is a real gem", and that the space and feeling of York is something that one just can't quite capture, no matter how many planes or bikes they get on.
More Topics

More than half of U.S. counties are now shrinking, thanks to low birth rates, aging baby boomers and skilled people moving to better job markets. According to recent research from the Economic Innovation Group, 50 million people live in counties with a lower population than they had a decade ago, and another 1...
By Siri Hedreen, Business News Daily When convincing employers of your ability, providing specific evidence has been shown to be more effective than stating one's skills. Resumes featuring keywords that imply proactivity and managerial skills are correlated with higher employer ratings. Resumes suggesting self-centeredness, a need for training or resistance to hard work ar...