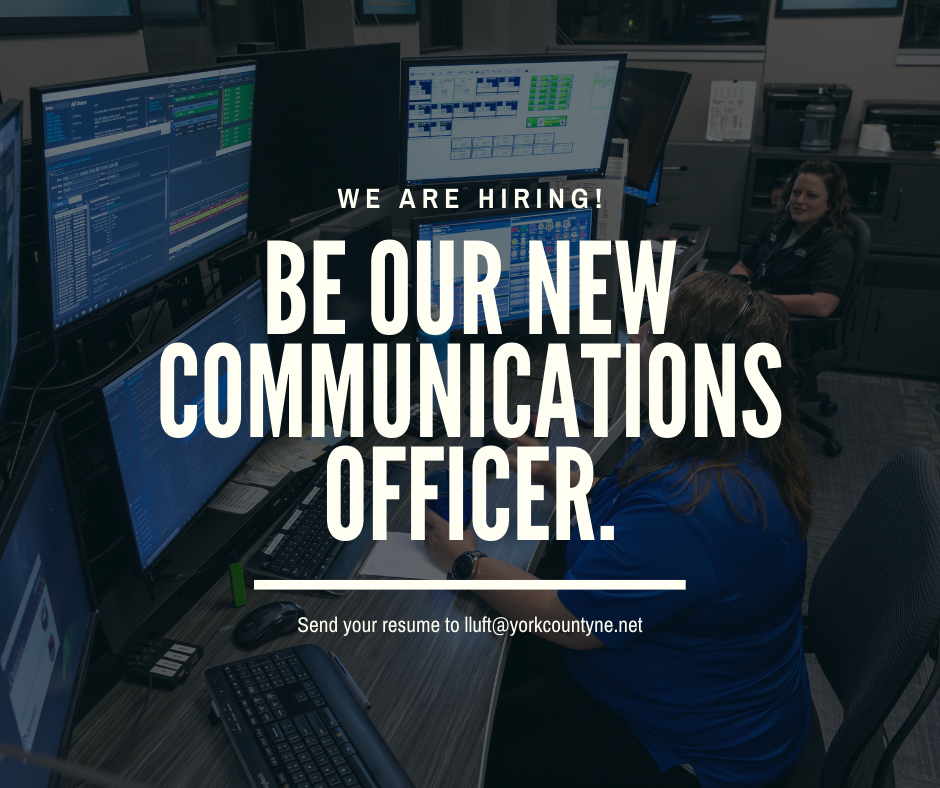 Full-Time
Communications Officer
at
York County Communications Center
Posted Date:
September 8, 2022
Apply By:
December 31, 2022
Education Level:
High School
The Application and Background Check Authorization form are located at the York County Clerk's Office or online at http://www.yorkcounty.ne.gov/. (Scroll to the bottom of the main page) Please return applications to the below address or email.
Responsibilities
Receive calls via the enhanced 9-1-1 emergency phone system and non-emergency law enforcement telephone system. Obtain information from callers requesting emergency response including fire, ambulance and law enforcement-related emergencies. Maintain status of officers and their welfare through proper communications. Dispatch appropriate emergency service equipment and personnel within the city of York and to communities and residents located within York County.
Qualifications
Applicants must be 21 years of age; possess a high school diploma/GED; and hold a valid Nebraska driver's license. Applicants must possess excellent oral, written, and interpersonal skills; operate a variety of computer programs; and perform in a high-stressed environment. Successful applicants will be subject to a background investigation and pre-employment drug screen.
York County Communications Center
510 N Lincoln Ave

York
, York
, NE
68467

United States