B & B on Sixth
501 E 6th Street• PO Box 38• York, NE 68467
US
If you love the quiet of small town living and the sound of a vehicle traveling down a brick paved street, you are in the right location.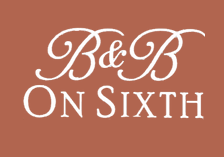 B & B on Sixth is located in York, Nebraska in the middle of America's heartland. The Inn takes its name from the street on which it is located. York's 6th Street is located in an area of town where there are many historic old homes.
B&B on Sixth opened in February 2020 after a year of updates and renovation. The 1905 American Foursquare style home is perfectly laid out for a bed and breakfast. Each light filled guest room has a private bath located across the hall and is appointed with comfortable furnishings, room darkening window shades and luxurious towels and linens. You will be pampered at the time of your arrival with home baked goodies and a refreshing beverage and that pampering continues throughout your visit. B & B on Sixth truly is "A Personal Lodging Experience Tailored Just for You"!