Transportation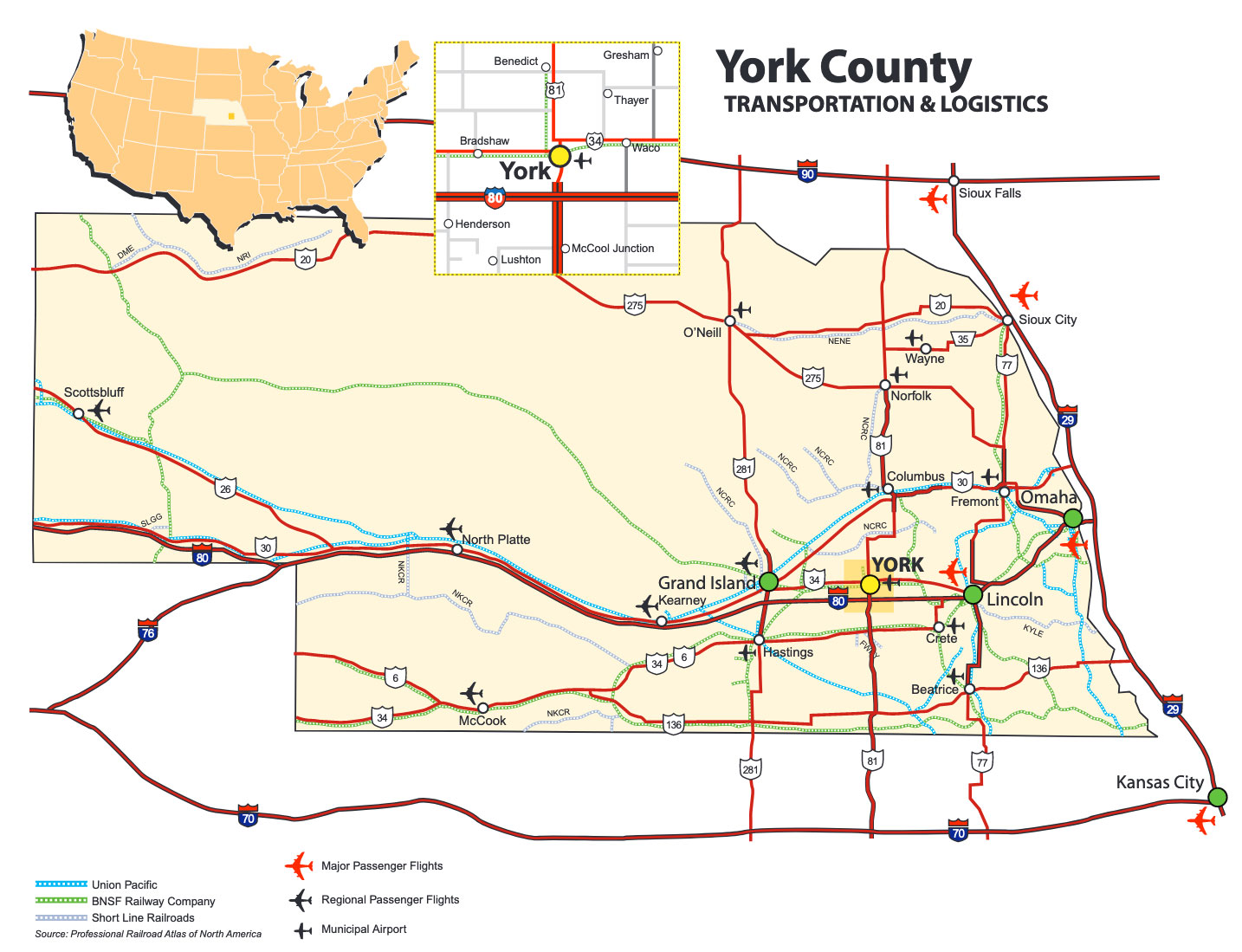 Highways
York County, Nebraska can reach 90% of the United States in 2 days or less due to its extensive highway infrastructure in Interstate 80, U.S. Highway 81 (also known as the Pan-American Highway) and U.S. Highway 34.
Interstate 80 (I-80) One of America's busiest roadways, I-80 connects the East Coast to the West from downtown San Francisco, California to Teaneck, New Jersey, near New York City. Interstate 80, which is the second longest Interstate Highway, has 4 exits in York County, Nebraska:  Exit #342 – Henderson; Exit #348 – Bradshaw; Exit #353 – U.S. Highway 81, York; Exit #360 – Waco.
U.S. Highway 81 – Running North to South, U.S. Highway 81 provides quick and easy access into Canada, as well as to the Ports in Texas. The Highway intersects with Interstate 80 in York County, allowing for travel in any direction.
U.S. Highway 34 – Located just 3 miles North of Interstate 80, U.S. Highway 34 runs East to West, allowing for an alternate route to Interstate 80. The route runs approximately 1,122 miles from the western suburbs of Chicago to north-central Colorado.
With these 3 roadways, making connections to other parts of the country from York County, Nebraska is a snap. Traveling East on Interstate 80 provides access to Interstate 29, which is 105 miles (90 minutes) from York County. U.S. Highway 81 provides travelers with access to Interstate 70, 140 to the South, and Interstate 90, 235 miles to the North.
Rail Service
York County, Nebraska is served by Burlington Northern Santa Fe (BNSF). BNSF has a main line that extends the length of the county. In addition to the main line, there is also a spur owned by BNSF that runs from York, 8 miles North to Benedict.
Air Service
Travelers can reach York County from one of 3 commercial airports: Lincoln Municipal Airport (45 miles East), Central Nebraska Regional Airport in Grand Island (45 miles West), or Eppley Airfield in Omaha (90 miles East).
Lincoln Municipal Airport (LNK) LNK is served by United Airlines and Delta Airlines with daily departures to and arrivals from Chicago, Denver, Memphis, and Minneapolis.
Central Nebraska Regional Airport (GRI) GRI is served by Allegiant Air, Great Lakes Airlines, and American Eagle (American Airlines) with arrivals from and departures to Dallas/Ft. Worth, Denver, Las Vegas, and Phoenix-Mesa.
Eppley Airfield (OMA) OMA is served by Delta, Mesa, American Eagle, Southwest, United, American, Frontier, Northwwest, Continental, Midwest Express, and American West airlines and has daily flights and connections to all major U.S. cities.
York County also has a local airport for small private jets and aircrafts. York Municipal Airport (JYR) is a publically owned facility that is managed by the City of York. Aviation flight training, aircraft service, aircraft rental, and short-term hanger rental is available. JYR has a concrete runway that is 5,900 feet long by 100 feet wide.