Fillman Law Office, LLC
507 N Lincoln Avenue• York, NE 68467
United States
Fillman Law Offices is a full-service law firm founded in 1958. Their attorneys handle estate planning, wills, trusts, family law, corporate and business law, civil and criminal litigation, and personal injury.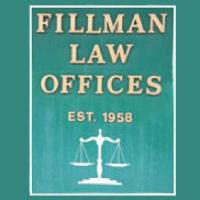 Fillman Law Offices was established by Gordon Fillman in 1958 after he retired from active service as a legal officer for the United States Navy. He served for more than 40 years as the counsel for Perennial Public Power and remains on many public boards and committees. He practices primarily in the areas of wills, trusts, real estate, and corporate and business law.
Lisa Meyer joined Fillman Law Offices in 2011 after graduating from the University of Nebraska-Lincoln College of Law. Her areas of practice include family law, divorce, child custody, landlord-tenant, bankruptcy, criminal law, juvenile law, civil litigation, and general practice.